Изображение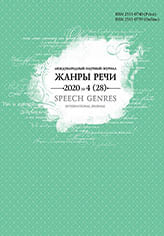 Journal Themes:
Speech Genres, Speech Genres Theory's problems, including typology of genres and genre forms, genres in connection with language, culture and culture image of the world, linguistic personality, arts, mass media, comparative studies of speech genres.
The journal is included in the list of leading refereed scientific journals and issues recommended for the publication of the main results of research papers.
Scientific specialties:
5.9.3. Theory of Literature (philological sciences).